My goal is to achieve results and make a positive change to my clients' lives.
Whether it is helping a client achieve goals, deal with change, improve performance, reduce pain, or support pregnancy, each treatment is tailored to find a solution to my client's individual needs.
There is nothing more fulfilling than seeing a client overcome hurdles and become more content and happier with their lives.
I achieved my first Complementary Therapy qualification in 2005 and I haven't looked back!
Prior to this, I worked in advertising for over 20 years.  It was stressful, demanding and involved working long hours.   I was looking for a career change to improve my work life balance and I decided to change my direction and follow my passion for natural health.
Ruth Hickinbotham
MFHT MNCH (Reg.) HPD IIHHT ART (Regd)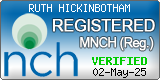 I initially focused on physical therapies such as Remedial Massage, Reflexology, Nutrition and Pregnancy Treatments.  As clients were more frequently sharing their life, stress and motivational issues with me I decided I wanted to help more.  I went on to study Clinical Hypnosis, NLP Coaching, and to Teach Mindfulness.  Being able to offer therapies for both the body and mind has been very beneficial for my clients, particularly when working with staff in the corporate environment.
I have taken my therapies to the workplace for over 10 years, an area I am drawn to.  I spent over 20 years in a very pressurised career and I believe we can all enjoy our careers whilst remaining well, happy and healthy.  I want to make a difference within the workplace, I believe positivity within an organisation can really help it to thrive.